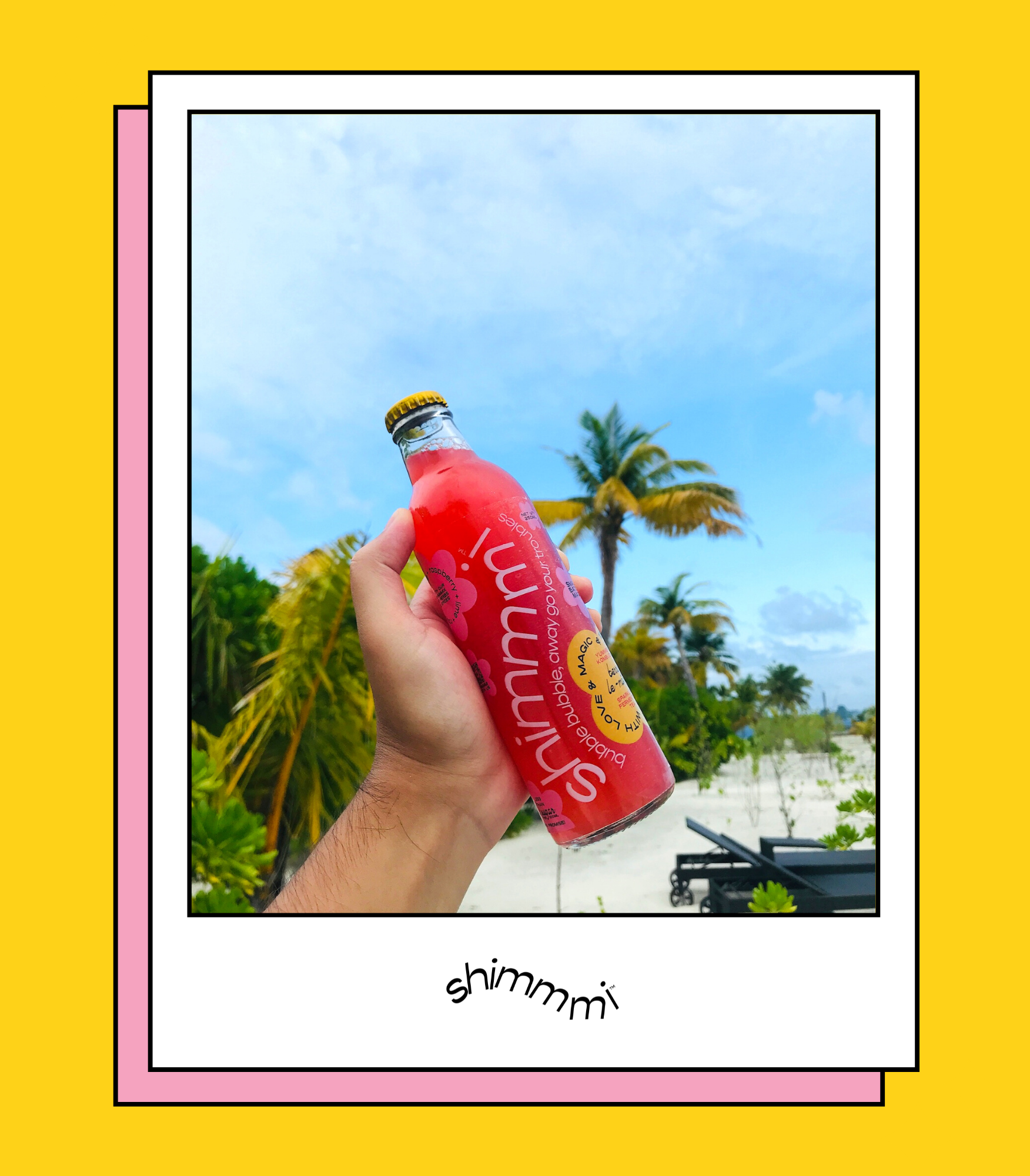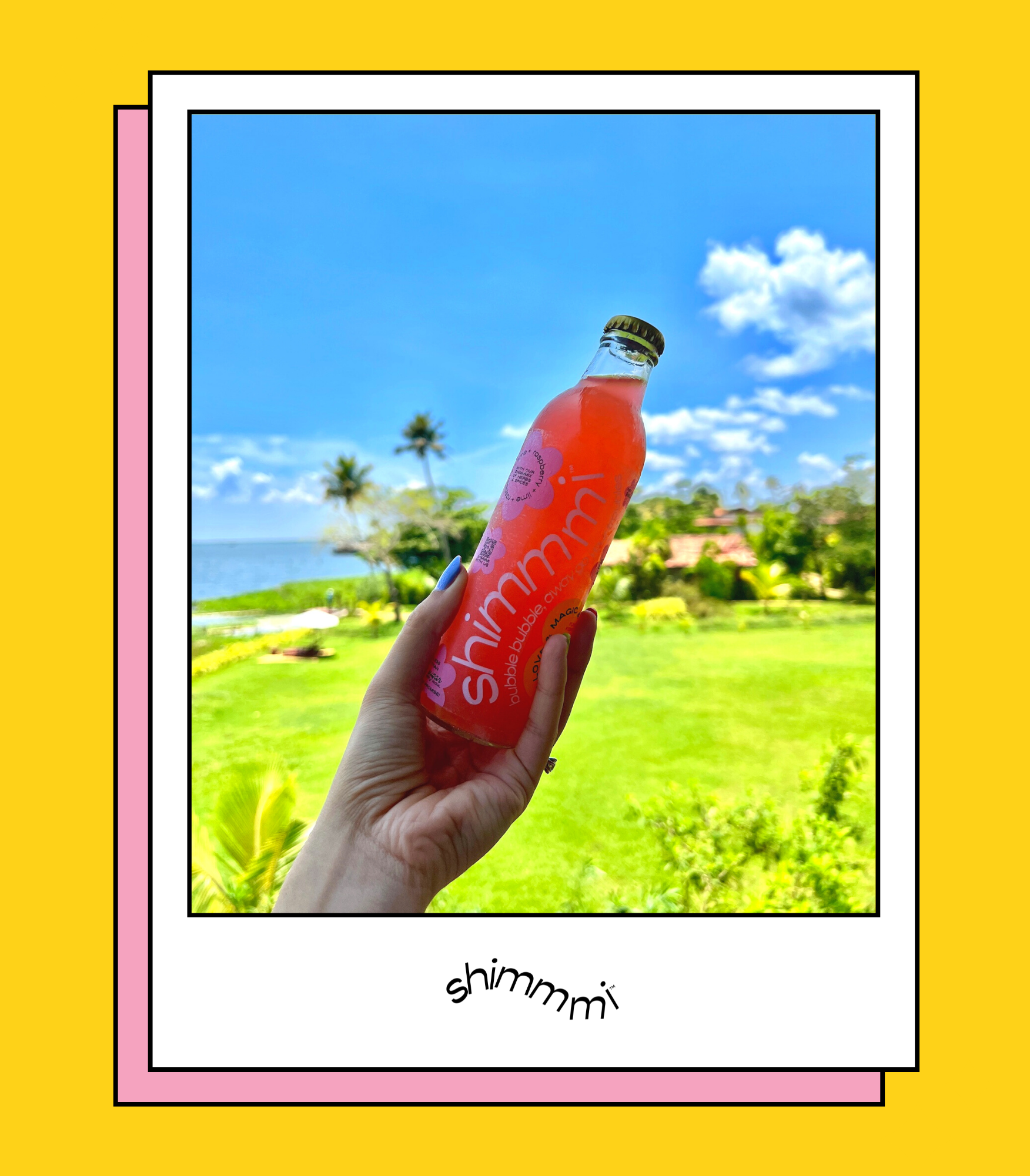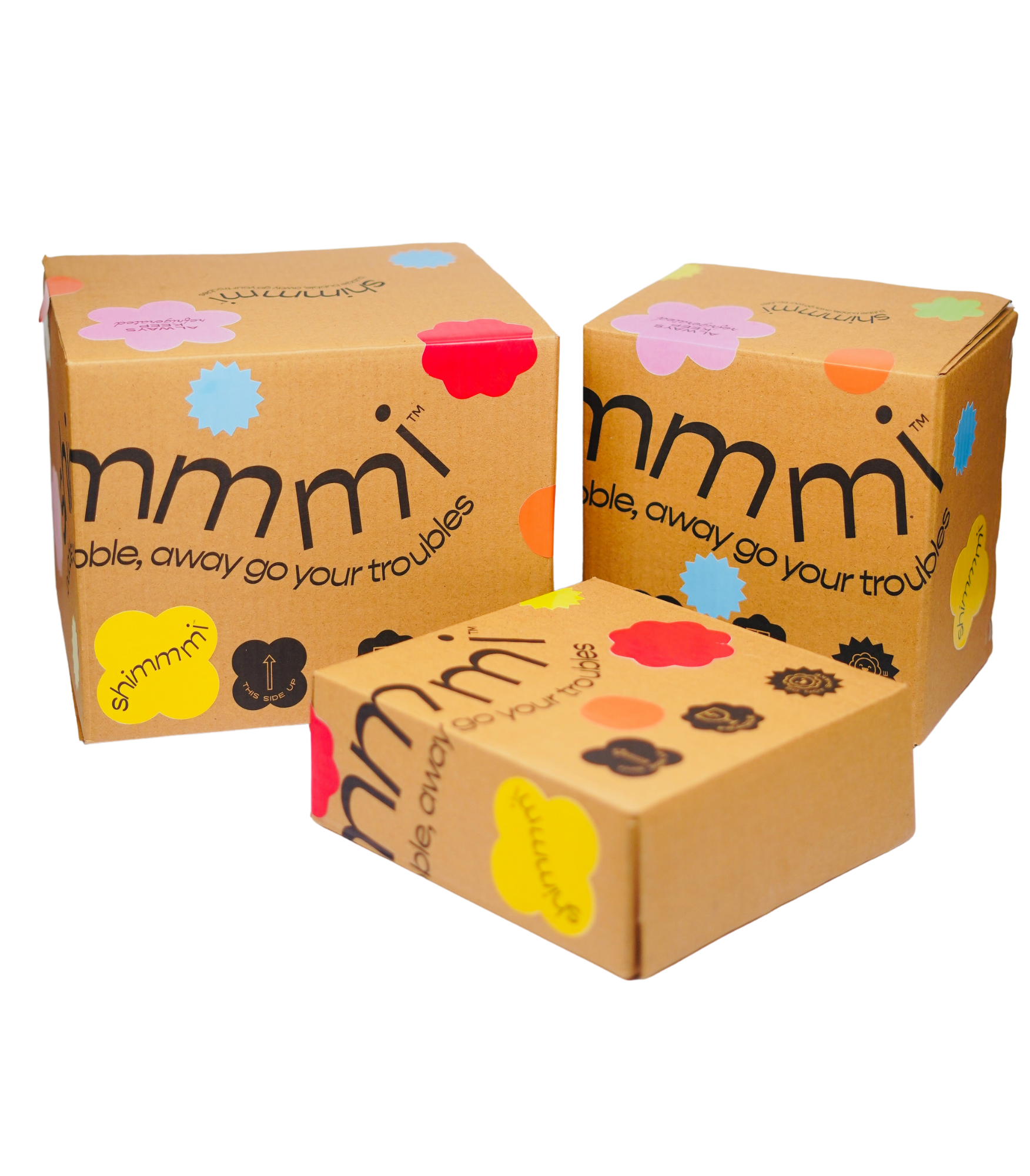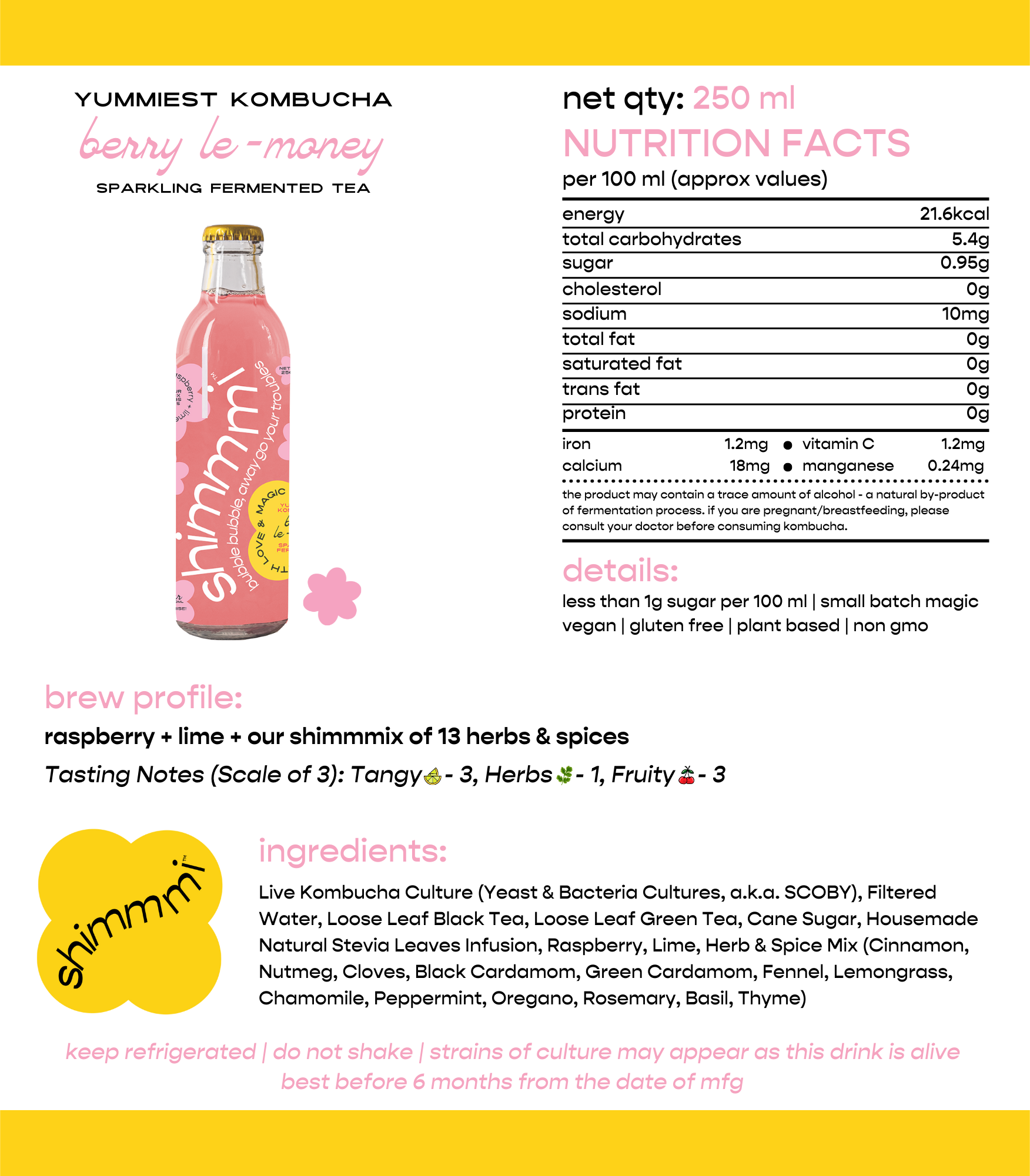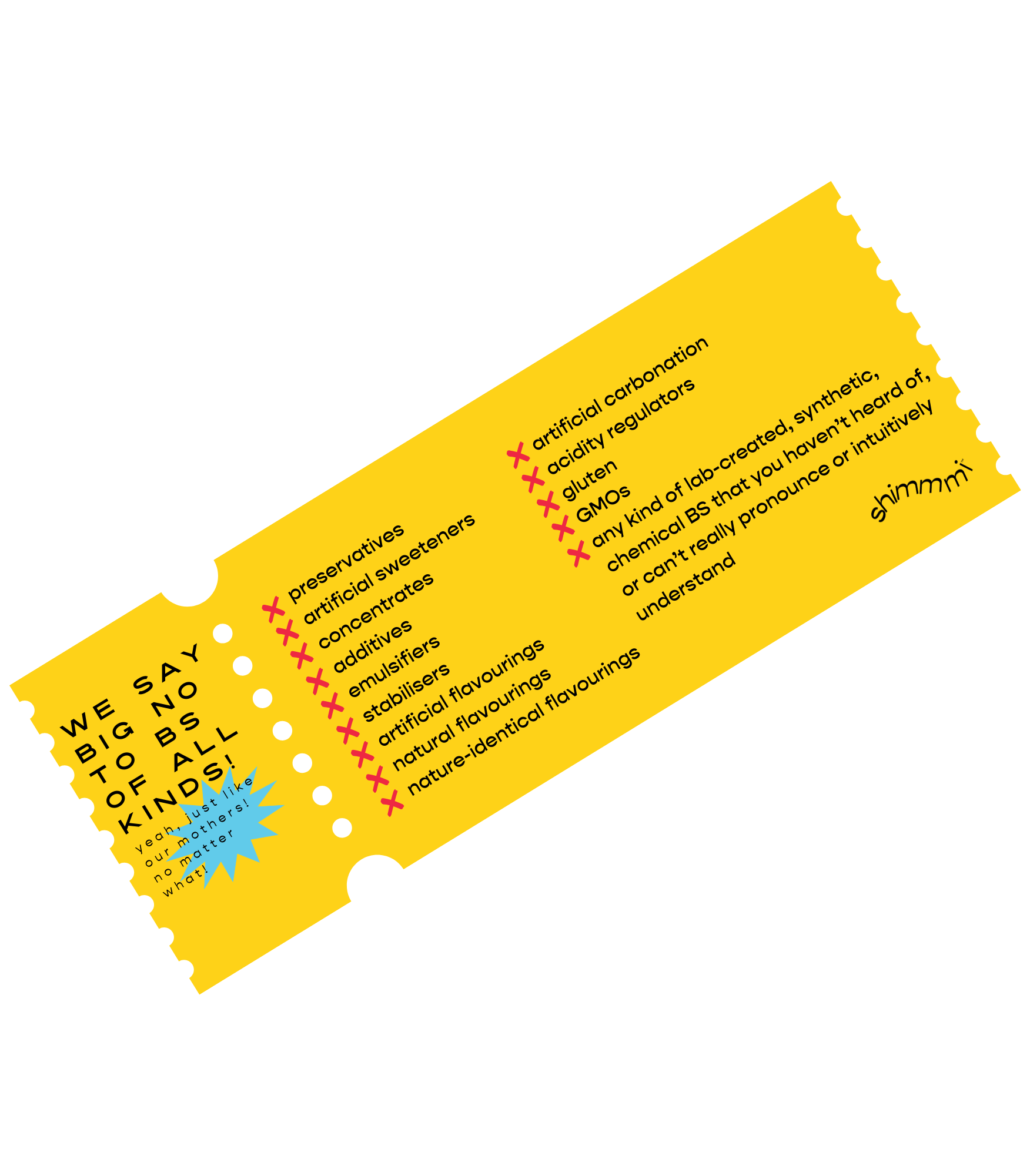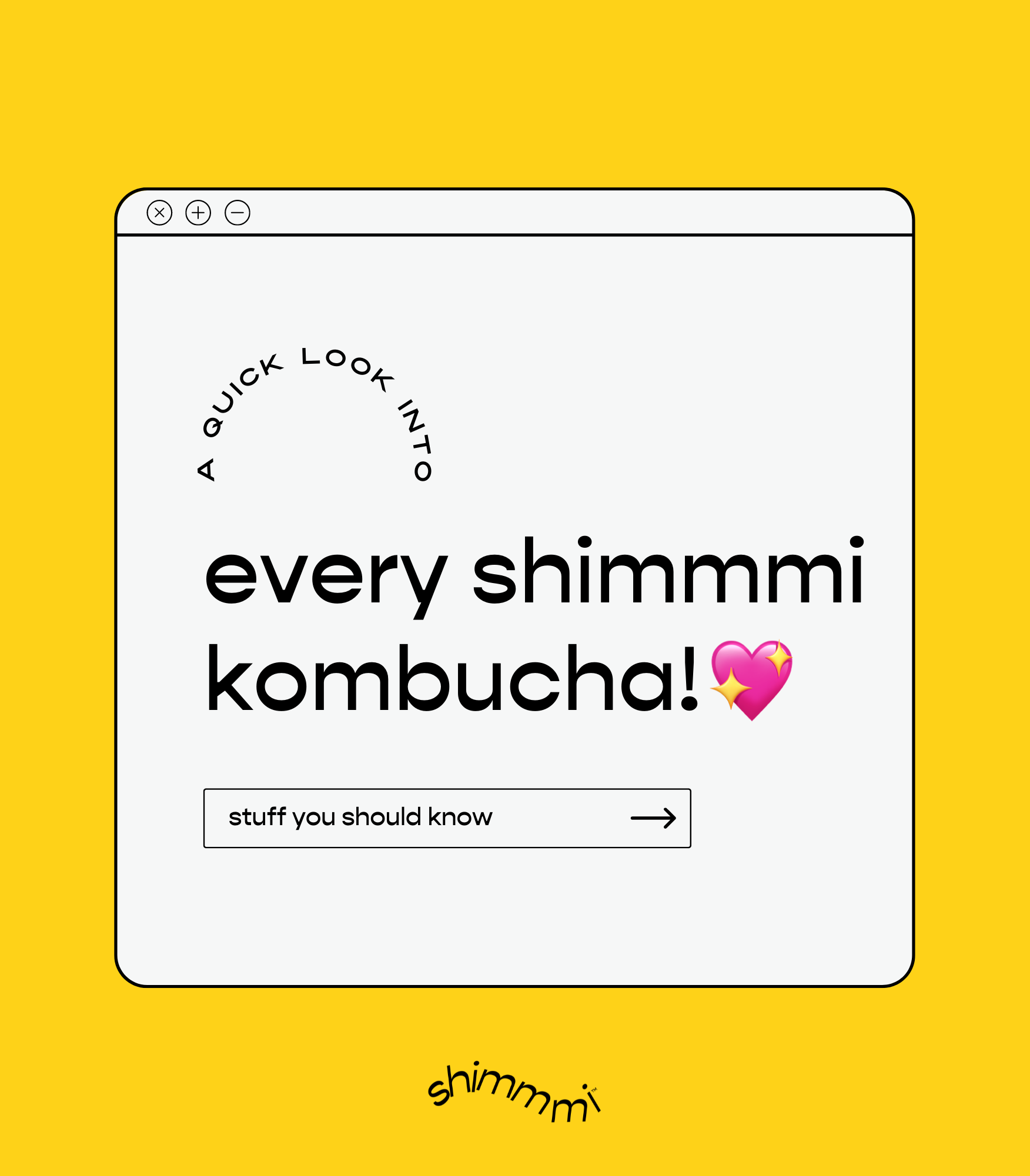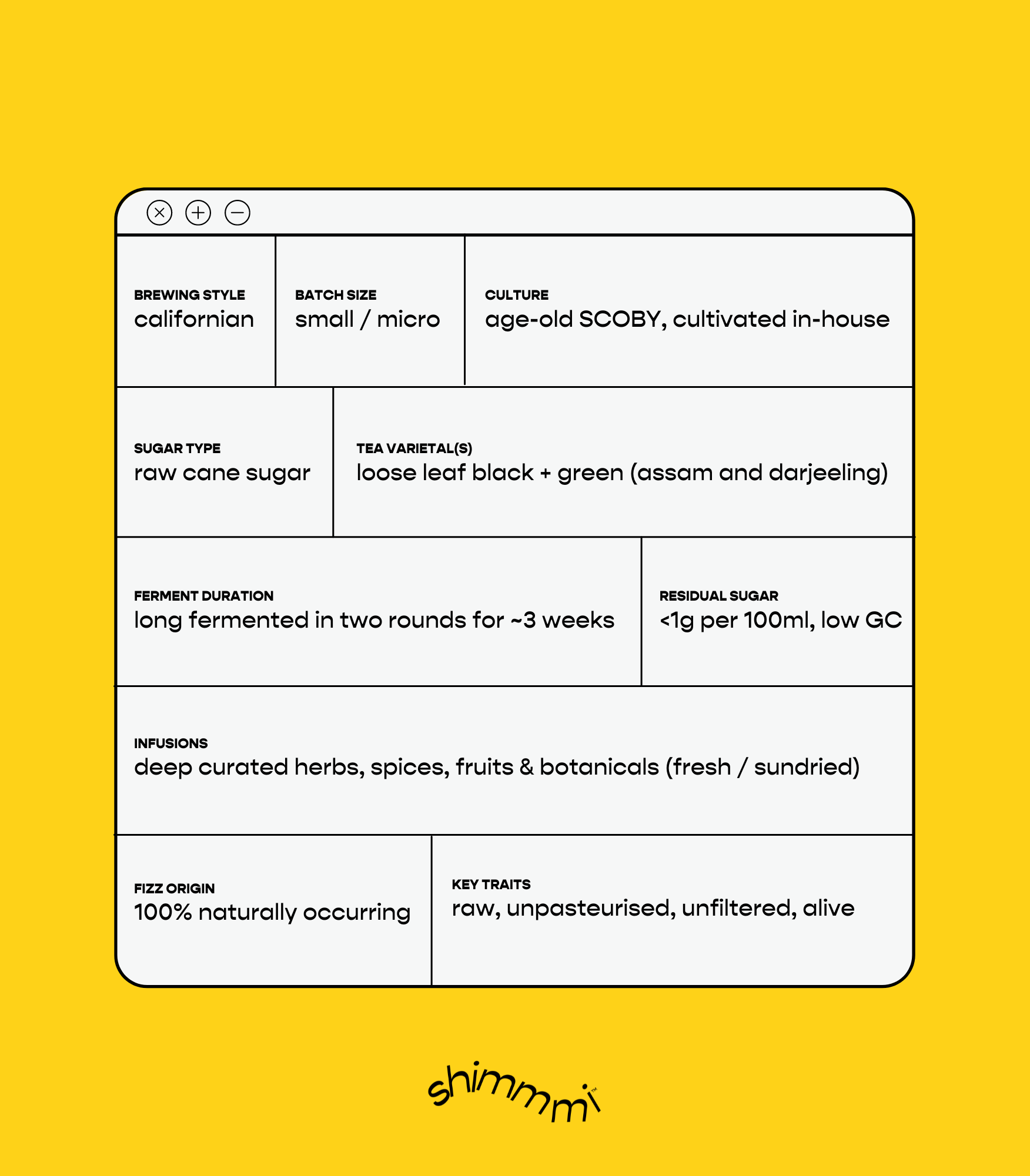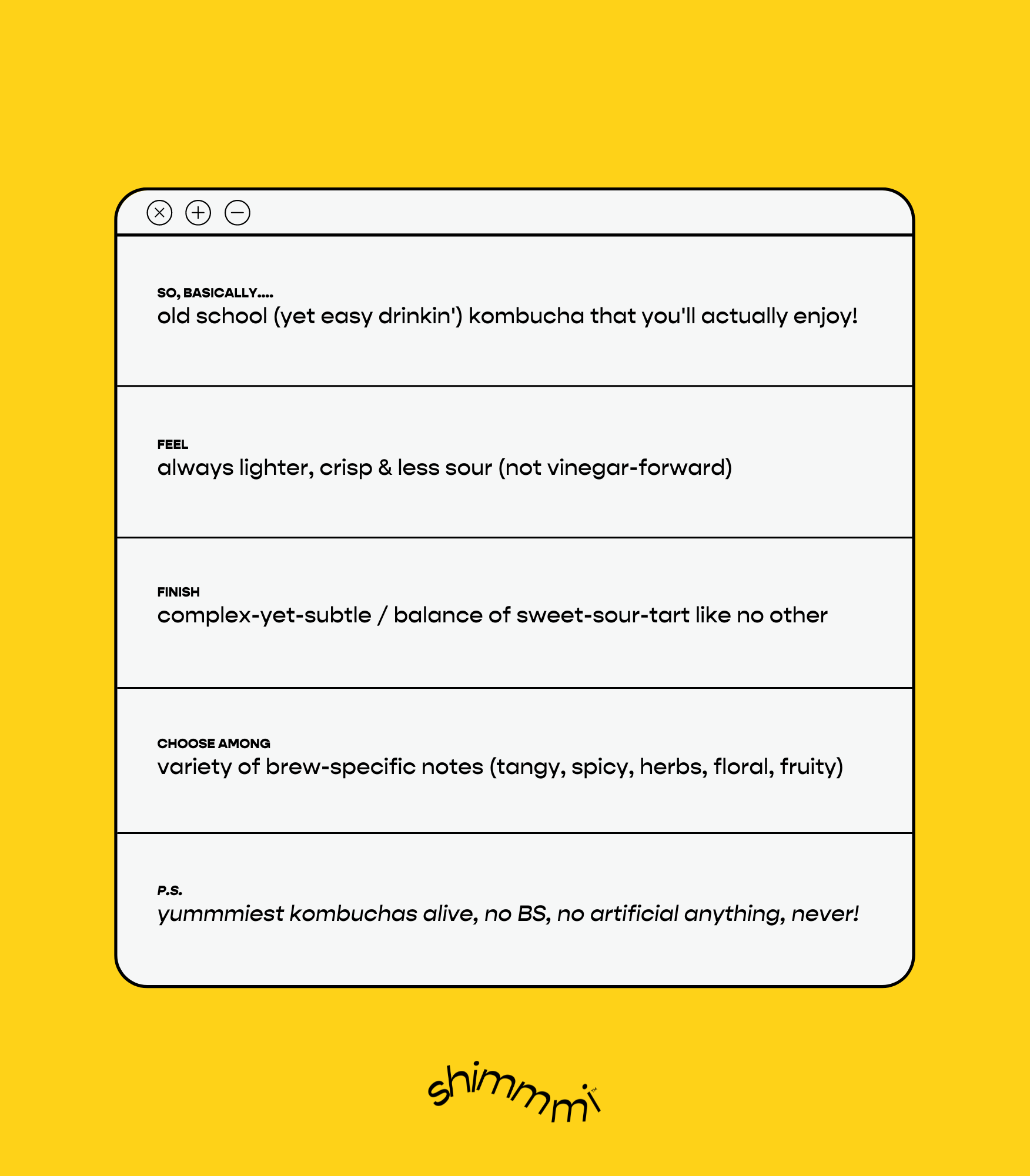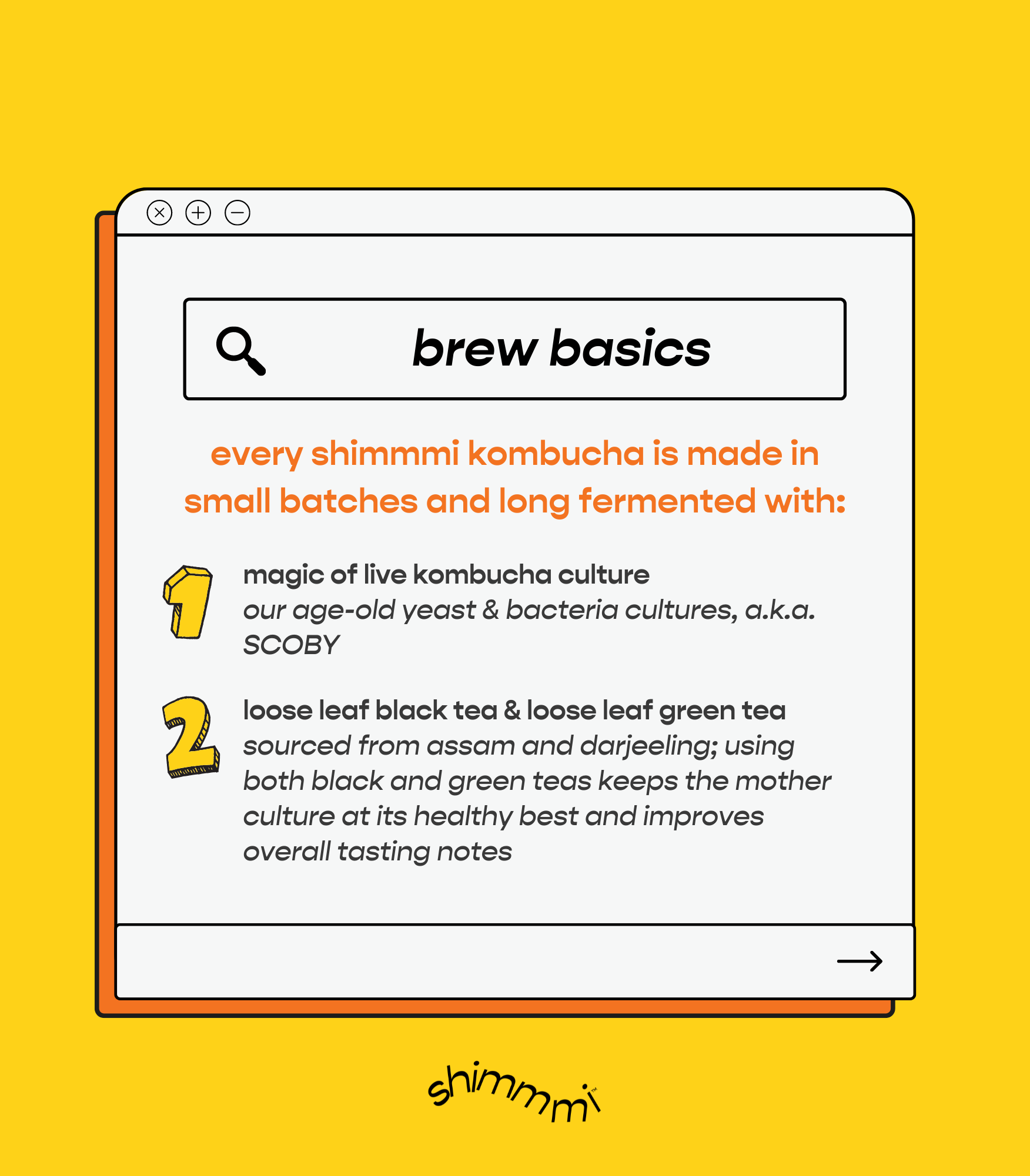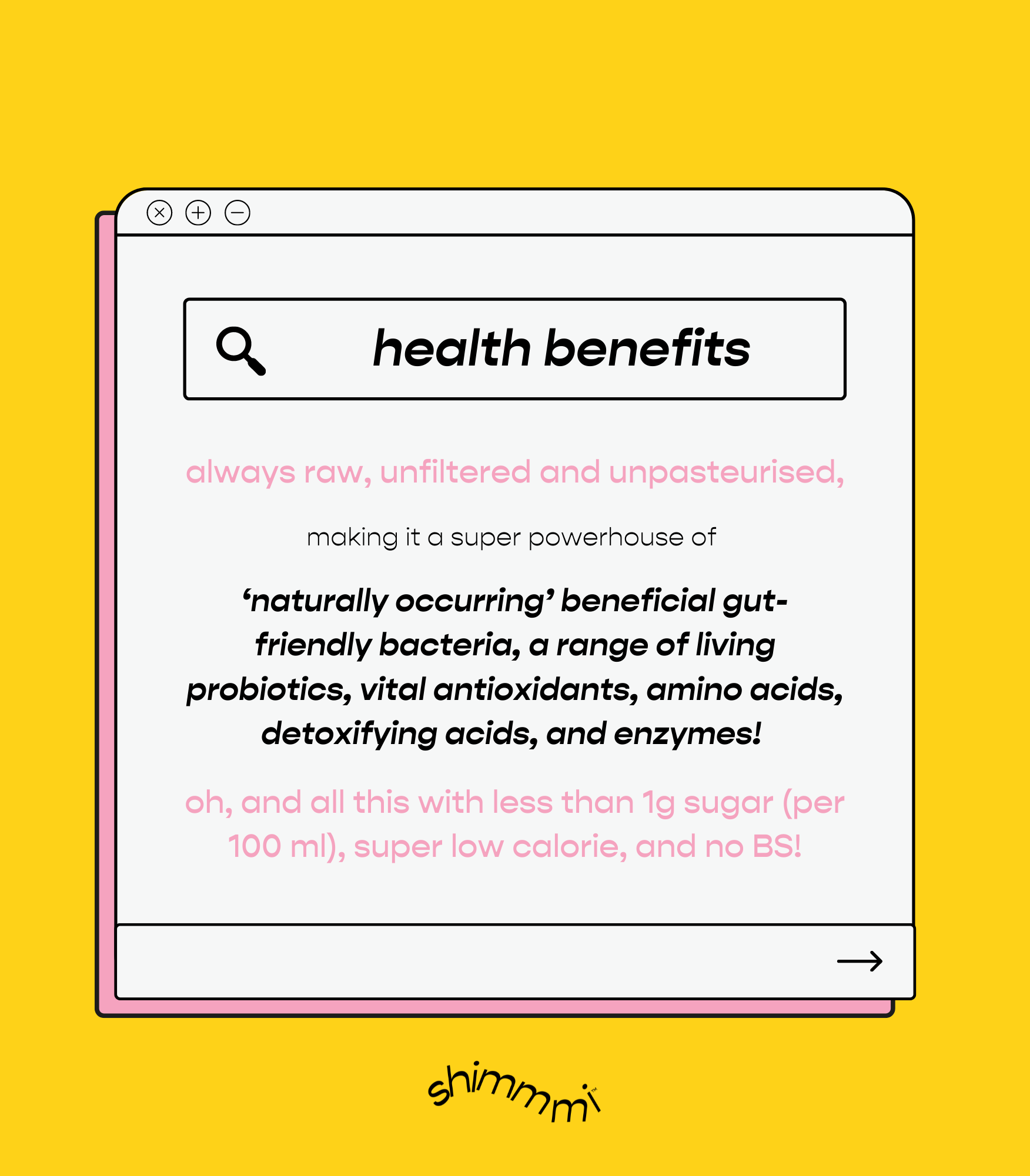 berry le-money
this very berry delicious flavour is crafted with raspberries and tangy bubbles of lime. oh! it also has less sugar than you can imagine!
starring🌟: raspberry & lime
supporting cast (don't underestimate us): shimmmix of 13 curated herbs, spices & botanicals
brew notes (scale of 3): fruity 🍒- 3, tangy 😛 - 3, herbs 🌿- 1
Box of:
single bottle - 250 ml
starring🌟: raspberry & lime
supporting cast (don't underestimate us): shimmmix of 13 curated herbs, spices & botanicals
brew notes (scale of 3): fruity 🍒- 3, tangy 😛 - 3, herbs 🌿- 1
always raw, unfiltered and unpasteurised,making it a super powerhouse of 'naturally occurring' beneficial gut-friendly bacteria, a range of living probiotics, vital antioxidants, amino acids, detoxifying acids, and enzymes! oh, and all this with less than 1g sugar (per 100 ml), super low calorie, and no BS! we brew guilt-free happiness with these better bubbles for body, mind & spirit 😇

ships 100% plastic free, no breakage

always keep refrigerated

serve chilled
(don't) shake before use

culture strands are a healthy sign

hmmm, yummmiest!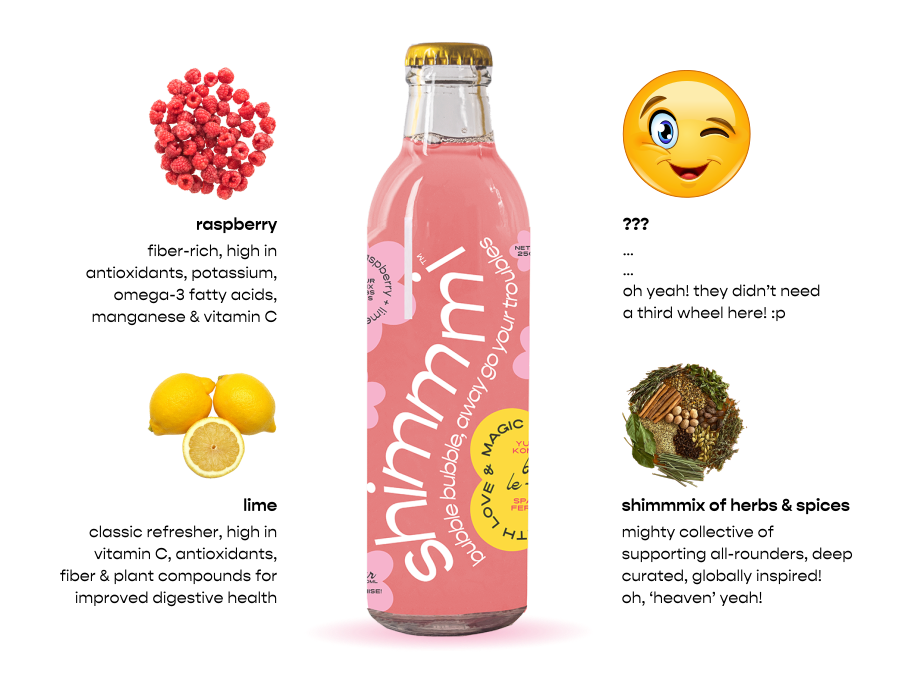 Live Kombucha Culture
(Yeast & Bacteria Cultures, a.k.a. SCOBY - our age old mother culture),
Filtered Water, Loose Leaf Black Tea, Loose Leaf Green Tea
(sourced from assam and darjeeling; using both black and green teas keeps the mother culture at its healthy best and improves overall tasting notes), Cane Sugar (not for you, it's food for SCOBY; it gets significantly brewed out to near zero levels during our long ferment rounds, making our brews probiotic rich & naturally resilient to last much longer - yeah, 6 months once bottled),Housemade Natural Stevia Leaves Infusion (just enough micro amounts to balance the lost sweetness from the brewed out sugars; no aftertaste, in fact you won't even feel it, pinky promise!),Raspberry, Lime, Shimmmix of Herbs and Spices (Cinnamon, Nutmeg, Cloves, Black Cardamom, Green Cardamom, Fennel, Lemongrass, Chamomile, Peppermint, Oregano, Rosemary, Basil, Thyme) x
trusted & recommended by experts around us

Mansi Chaudhary
Nutritionist
Mumbai
Certified Nutritionist, CDE, Holistic Cancer Coach, Nutrigenomics Expert, Mindful Eating Coach, Wellness Writer & Speaker

Dr. S.S. Singh
Doctor
Delhi

MBBS, MD (General Medicine), FCCP (Cardiology), FICA (New York), FLEX (USA), MA (Yoga), Formerly on the Faculty of New York Medical College (USA) with 50+ years of experience

Deepak Pal
Nutritionist
Gurgaon

Certified Sports and Functional Nutritionist, Lifestyle and Health Coach, Wellness Educator
we say big no to BS of all kinds!
any and all kinds of lab-created, artificial, chemical BS that you can't really pronounce! hell yeah, just like our mothers, no matter what! we infuse real plant-based stuff (fresh or sundried) exactly as nature grows them! (even all that good fizz is 100% naturally occurring due to fermentation)
many ways to shimmmi - it's your call!
all our brews are 'super versatile' too, with more than just one way to consume! well, here are some hot tips to enjoy 'berry le-money':

think of this as a berry, fruity lemonade plus magical powers of kombucha!

you're in for a mind blowing surprise (yes, guilt-free too) with probably, the healthiest + yummiest mixer, we can think of! (pairing tip: gin/vodka)

now bring some one-of-a-kind gourmet bar at home, delivering all the fun+fanciness without any hard work or some sugary, fizzy BS around!
we got you! simply freeze it in a mould & make cool popsicles; blend it with fruits or dairy-free milk/cream & make crazy floats, smoothies or creamsicles; or you can even turn it into a salad dressing because there are infinite ways to shimmmi, and we can't wait to find yours!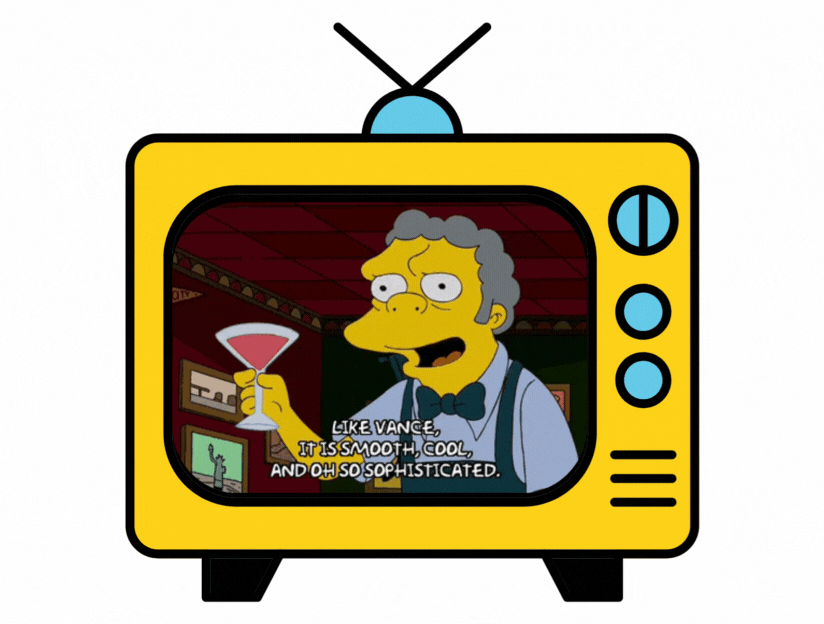 Subheading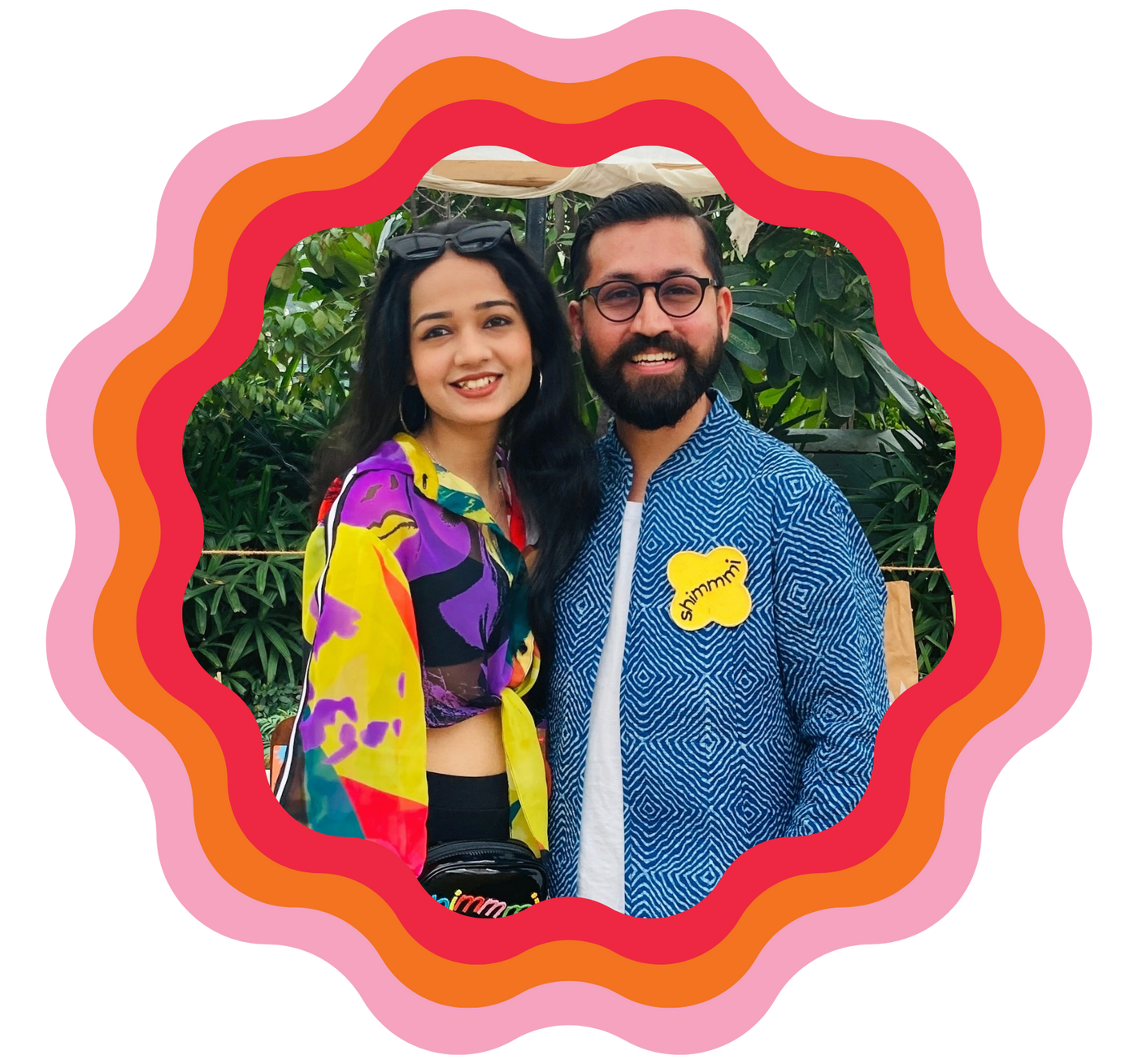 Our Founders
hello bubblies!
we are nidhi and prabodh and in a world full of beverages, shimmmi brings back the timeless joy of bubbly with natural and alive SCOBY cultures. well, what made us shimmmi, you ask? for most things in life that matters, we've always followed our gut and somewhere along the way, came across this age-old, magical pot of fizzy, fermented gold. indeed, we fell in love. the more we learned about it, the more we wondered, "why aren't more people talking about kombucha in India??"
...
so, for us, what started then as a curious consumers' love has now evolved into a tireless pursuit to develop happier & easier (yet wholesome & guilt-free) entry ways into the complex world of fermentation,for everyone, anytime, anywhere! something that's good enough to make you say mmmm, and refreshing enough to make you go ahhhh. something that breaks down the complex into simple stuff that our gut loves, is as delicious as it is nutritious, is liberal & versatile enough to become a perfect go-to beverage, and can be every bit as 'transformative'!
Frequently Asked Questions
Kombucha is a fermented, naturally effervescent and mildly sweet functional beverage with its roots in the ancient Far East regions of Japan, China and Russia around 2200 years ago. Though the process of preparing Kombucha is similar to that of curd/yoghurt made in our homes since time immemorial, as both of them requires some kind of culture to be added to kickstart the fermentation process. Kombucha begins as a mixture of tea leaves, sugar and S.C.O.B.Y (culture), and during the process of fermentation, it develops a distinct and pleasant sweet- sour-tart taste, natural fizz and loads of beneficial gut-friendly bacteria, a range of probiotics, vital antioxidants, enzymes, detoxifying acids, amino acids, antioxidants, polyphenols, Vitamins B and C, minerals and so much more, making it a better-for-you fizzy beverage.

At shimmmi, we like to think this way: by brewing kombucha, we revive, possibly, the world's oldest functional non-alcoholic beverage!
SCOBY or Symbiotic Culture of Bacteria and Yeast is often referred to as 'The Mother'. It's a peculiarly shaped round disk that looks like a mushroom and is the living culture that makes kombucha a special magical drink. Think of it as the 'home' for the good and nutritious bacteria and yeasts that magically transforms tea into your kombucha. At shimmmi, we cultivate our unique, age-old mother SCOBY that is well balanced, healthy & happy, making it even more powerful to brew complex, authentic, probiotic-rich brews.
Shimmmi makes one of the lowest-sugar Kombuchas available in the market with less than 1g per 100 ml; which, btw, is not the hard part if not achieved naturally, without BS. Raw cane sugar is the key starter element that acts as food for all the live cultures, SCOBY (not for you). During the long, good-old fermentation rounds, we significantly brew out and eliminate this sugar down to near zero levels, making our brews probiotic rich & naturally resilient to last much longer - yeah, 6 months once bottled. Moreover, though the process starts with cane sugar, which is rich in sucrose; the final brew mostly contains fructose – the residual and simple sugar, with a low Glycemic Index (GI), similar to that found in fruits.

At shimmmi, we work meticulously and tirelessly (read as: sleepless nights) to achieve the tough trinity (actual hard part): (a) super low sugar & calories; (b) stay wholly true to the age-old, authentic processes & real, plant-based stuff exactly as nature grows them, no BS in the form of artificial or natural (made in lab) or even nature-identical; and delivering a light, yummy taste profile. This is all what we are obsessed with most of our times.
Refrigerate the bottles in an upright position as soon as you unbox them. Since our kombucha is raw, unpasteurised and contains live cultures, do not store them in temperatures beyond 2°to 6°C, and, of course, it's best served chilled! Note that, please do not put the bottles in freezer section as that will cause ice formation inside and bottles may explode due to excessive pressure build up.
Although kombucha never really expires when stored under refrigeration at all times, the alcohol content increases, and starts turning more sharp, acidic & vinegary, making kombucha unpalatable for your liking (but doesn't really harm your health if consumed). Since we are required to meet the standards of regulatory requirements and compliances, shimmmi kombucha is declared best before 6 months from the manufacturing date.

We know you might think why such a long shelf life. You should, and it's a question we love to answer because we have spent lots of sleepless nights to make our brews last longer, naturally, no BS; which, btw, is the hard part if you only have honest means. As all the initial sugar gets significantly brewed out to near zero levels during our long ferment rounds, our brews become probiotic rich & naturally resilient to last much longer!
There are obviously too many opinions on this matter. But, we say, listen to your body, and not the internet! We know our brew and that's why we say you can start with a bottle a day, and go up to 3 or even more bottles a day based on how your gut responds and feels. Although not harmful, consuming too much too soon, if you're not ready, can result in bloating and an upset stomach. We suggest you decide your intake and increase depending on your liking and how your body responds. Know that there's no real standard lower or upper limit here like we have for medicines or tonics or nutraceuticals, it's food and your gut knows how to adapt and balance things in your body especially when you consistently include kombucha and fermented foods in your daily diet.
Yes! Although a small trace of alcohol is usually produced during the process of fermentation, we test every batch to ensure that it does not go beyond 0.5% ABV as per national and international standards for non-alcoholic drinks. Also, did you know! Alcohol is a naturally -occuring macronutrient and can be found in small amounts in other foods too (for example: fresh-squeezed orange juice has about 0.05%-0.1% ABV. even idli-dosa batter has similar trace amounts after fermentation)
Yes! Shimmmi is a great and interesting addition to all and any of your events. Not just age-friendly, it's also a unique versatile drink with more than one way to shimmmi, so expect some compliments for being the host of the year when you introduce your gang and others to this gourmet magical guilt-free beverage, a rare-find in a beverage market around us! It is a great alternative to the widely available sugar-laden, artificially carbonated soda/cold drinks/cocktail mixers, or just boring iced teas and mojitos. If you consume alcohol, even better news as all our brews are not only great alcohol mixers but also a great way to bring gourmet bar-at-home to make craft cocktails.

Check out all our brew pages for more ways to shimmmi and do give us a chance in the next party you're throwing. We will sort it for you even further with some bulk party order discounts! Make your party the talk of the town!
Yes! Yes! Yes! Whether you have just been exposed to the whole fermented food culture, or have been a booch enthusiast or connoisseur for a long time, our kombucha is for anyone and everyone. From late-afternoon pick me ups to gym freak looking for health and taste on the go. Whether your meal needs a companion or you need to boost energy levels at the end of the day. Maybe you're a passionate creative or busy corporate who can't do without a little afternoon pick-me-up. Maybe you're an avid traveller or an outdoor enthusiast who's looking for the perfect drink to toss in your backpack and take on a hike. Maybe you're a parent who craves something fizzy that isn't loaded with sugar or other BS. Maybe you're a clean eater who's looking for a fermented beverage that doesn't sacrifice on taste. Maybe you're an athlete who needs to work at peak performance for a longer period of time. Maybe you're a gym freak, runner, aerobics or yoga person who strives to maintain active workout routines. Maybe you're a busy entrepreneur who loves to try new things that are convenient to grab on the go but don't compromise on sustainability.
Whoever you are, kombucha is a timeless, age and gender neutral drink that you must incorporate into your daily routine. It has been around for thousands of years but only recently caught the limelight due to its experiential health benefits and made popular by growing community of fermentation lovers, kombucha enthusiasts & modern brands.

The TL;DR: kombucha is possibly the best alternative to your mainstream sodas, cold drinks, packed juices, coffee, tea, energy drinks or other fizzy drinks around loaded with BS. just relax and know that anyone can shimmmi anytime, anywhere!
folks who found their fizz

..tried kombucha first time and am truly mesmerised by the taste and refreshment it brought to my body. Its health benefits makes it a perfect go-to beverage for me, anytime, anywhere! Way to go shimmmi (especially those trying first time)..


Finally, a kombucha that also tastes good!


..Enjoyed the amazing fizz that shimmmi kombuchas have and was surprised to know it's not artificially carbonated. This rare-find awesome balance of fizz, yum & honesty makes shimmmi stand out. Hard to pick one, but I fall for "lovely lavender"!..


..Shimmmi kombucha is one of the best fillers for the fizz we need in our lives to complement our gastronomy, great for gut, loaded with probiotics, natural immunity booster. It's one of the best I found in town..


It's the best kombucha I have had in the market! Love their flavours and its taste!


A kombucha so delicious that you'll actually enjoy drinking! I can never get over their "ginger grass" - it's so damn good!


..as a bride during weddin, there's a lot of physical and mental stress. I sipped on shimmmi kombuchas, so refreshing and fizzy that I kept shimmming throughout. go grab your booch, I bet you won't regret! plus, it's also non-alcoholic..

I have tried so many kombuchas in my life but I have to admit this is my last switch, feel home with shimmmi!